Upcoming Events
Events List Navigation
October 2015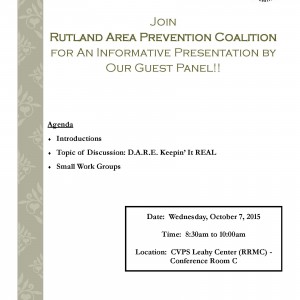 DARE: Keepin It REAL Community Presentation Wednesday, October 7, 2015 Leahy Conference Center, Room C Rutland Regional Medical Center, Rutland Past and present DARE law enforcement officers will explain the differences between the original DARE program and the evidence based Keepin It REAL program. All are welcome to attend. For more information, please contact us at rap@rmhsccn.org or (802) 775-4199.
Find out more »
+ Export Listed Events
The Rutland Region Chamber of Commerce event calendar is the most complete events guide for central Vermont! Highlighting all the best shows and entertainment venues, local area happenings – we're your source for what's going on! Got an event? We welcome submissions. Click here to get your event listed.