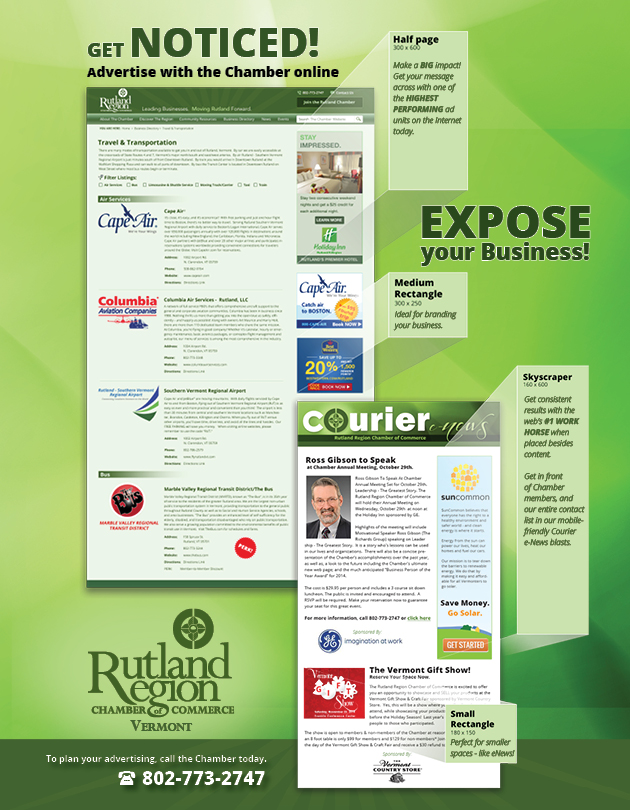 Promoting your business is our primary mission and we've made it easy to customize advertising opportunities to fit your organization.
Website Advertising:  Measure Your Results
With over 130,000 visitors a year, your Chamber's website is one of the most visited websites in the Rutland region.  We're constantly growing and exposure is high to both locals and tourists visiting our area.  We have digital billboards, half pages, rectangular ads and skyscraper ads that appear in many areas of our website.  Stop guessing whether your ad was effective or not!  When you place an ad on our website with a link to your business website, you can get reports to  see exactly how much traffic was generted by clicks on your ad and the number of times it was displayed.
Choose Where You Want Your Business to be Visible
From our Calendar of Events, Dining Directory, Services Page, to our Business Directory, you can decide where your business will benefit most.  Call us to discuss how we can set up your digital advertising for success.
Print Ads
Print advertising is not dead!  Every year, the chamber prints its Annual Report and a Membership Directory with contact information on all member businesses.  These publications have extremely long shelf lives and are used as handy references for businesses all over the Rutland Region.  Conveniently find names, addresses, email addresses, phone numbers and contact people on all members in our Membership Directory.
Display Windows at the Rutland Chamber of Commerce Visitor's Center
Your banner will appear in the windows of our main offices and Visitor's Center at the corner of West St. and Merchant's Row in the heart of Downtown Rutland.  In addition to walking trafic on average, an astounding 16,800 cars per day drive by the Chamber offices.  Many are stopped and waiting at the light and read the banners displayed in our windows.
Order your banner advertising online!