Your Voice in Montpelier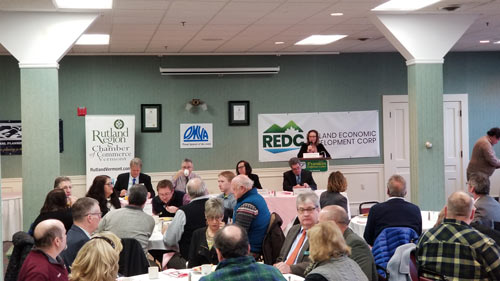 In the Rutland Region of Vermont, you're not just a number, you're a person with a real voice in local and state government. Thanks to being a small state with a big voice, we work in partnership with Rutland Economic Development Corporation to provide opportunities to directly interact with your State Representatives, Senators, Congressmen and Governor.
The Chamber & REDC closely monitors legislative activity on behalf of our members and addresses the issues that need our support or opposition to maintain a business climate favorable to operating small and large enterprises in Vermont.
We encourage you to let us know if there is an issue you feel is important to the community and to contact the Rutland County Delegation directly.  Click here for their contact information.
Your participation at these events, in your communities or in Montpelier ensures that our voices of business are heard above the noise.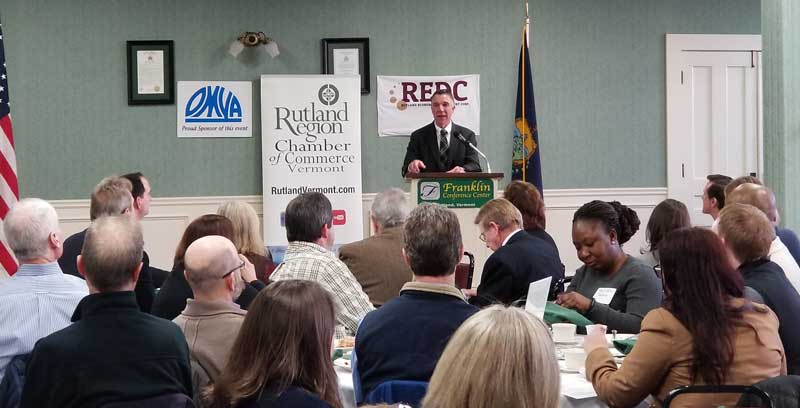 The Chamber & REDC's participation with the Vermont State Chamber of Commerce further leverages our voice as part of a larger group made up of businesses from all over the state. We are pleased to say that as a result of our vigilance and commitment to staying on top of the issues that affect our membership, our Rutland County delegates respect the position of our members, listen attentively to our concerns, and in most cases, enjoy the full support of the Chamber.
Upcoming Legislative Events:
The Chamber/REDC Legislative Breakfast Series is sponsored by the generous support of Omya, Inc. in collaboration with Rutland Regional Planning Commission.
April 22: Legislative Breakfast with Governor Phil Scott, 7:30am at Franklin Conference Center, cost: $15.  More Information and RSVP click here
June 3: Legislative Breakfast, 7:30am at Franklin Conference Center, cost: $15.  More Information and RSVP click here