A Rumpus for Education
April 29, 2017 @ 7:00 pm
|
$5 – $20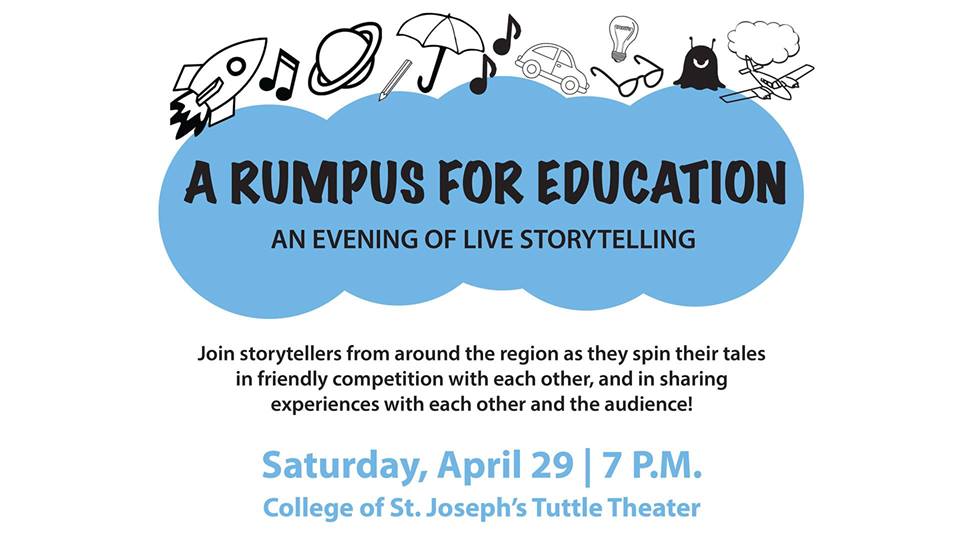 A Rumpus for Education
Saturday, April 29, 7 p.m.
College of St. Joseph's Tuttle Theater – 71 Clement Road, Rutland
Tickets: $20 adults, $5 students
Join storytellers from around the region as they spin their tales in friendly competition with each other! The evening will feature true, first-person, seven minute stories.
Storytellers include:
Forrest Byrd
Carlisle Carey
Nanci Gordon
Michael Ray Kingsbury
Jennifer Hall
Mike Nigro
Judi Tompkins
Tyrelle Appleton
and others to be announced
Like what you hear on "The Moth Radio Hour" or "Snap Judgement" on NPR, these story sessions – told without notes –have been playing to capacity audiences.
All proceeds benefit CSJ's Provider Scholarship Program, which provides students with financial aid in exchange for community engagement, academic curiosity and more.