E-Cigs, Juul & the Youth Epidemic
March 25, 2019 @ 6:00 pm

-

8:00 pm
Event Navigation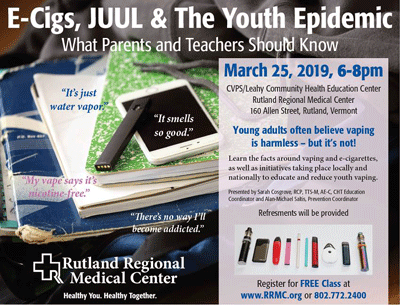 Some of the common youth misconceptions surrounding e-cigarettes are:
"It's just flavoring."
"It's just water vapor."
"My vape says it's nicotine-free. There's no way I'll become addicted."
"I don't have an addictive personality – I won't get hooked on vapes."
"Nicotine isn't that bad for me."
"Just because I vape doesn't mean I'm going to smoke cigarettes."
Join Sarah Cosgrove, Respiratory Therapist & Tobacco Treatment Specialist, and Alan-Michael Saltis, Regional Prevention Partnership Coordinator of Rutland Regional Medical Center to discuss why these dangerous misconceptions lead young adults to believe vaping is harmless and why sharing the facts is an important first step in addressing youth vaping. Parents, teachers, health professionals, and other youth advocates will learn current initiatives taking place nationally and locally, along with practical suggestions that will have a positive impact for our county's youth population. Refreshments will be provided. Registration is requested for this FREE event. For more information or to register, visit http://bit.ly/RRMCVapingEvent or call 802.772.2400.