Selling To The Government 101
February 14, 2019 @ 1:00 pm

-

2:00 pm
Event Navigation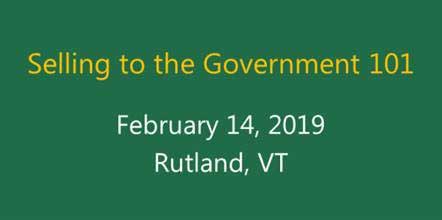 Date: 2/14/2019
Time: 1:00 PM – 2:00 PM (EST)
Status: Open – 12 places remaining
Registration Deadline: 2/14/2019 1:00 PM (EST)
Fee: No Fee
Point of Contact: VT PTAC
Center: Vermont Procurement Tech Assistance Ctr.
Location: 67 Merchants Row, 3rd Floor Classroom, Rutland VT 05701
Training Topics: Government Contracting, Selling to Government
Description:
Interested in Learning How to Sell to the Government?
Please join the Vermont Procurement Technical Assistance Center (VT PTAC) for a one-hour workshop titled "Selling to the Government 101" which introduces Vermont small businesses to government contracting. Businesses will learn the basics to compete for contracts with the government whether it is state, local, or federal while also learning about socio-economic small business programs that may give you an advantage when competing for federal contracts.
Discussion topics include:
Marketing your small business to the government
How to locate bid opportunities
Understanding the registration process
How to successfully compete for government contracts
Socio-economic small business programs
How we can help a small business like yours:
We work hard to ensure that Vermont businesses are able to compete successfully in the government marketplace. We provide resources, training, and networking opportunities to maximize contractors' capabilities. Our services are free and easy to access.
REGISTRATION:  Sign Up