Rutland Solar Capital Initiative
Enter to
WIN FREE STUFF

!

GMP's Rutland Solar Capital Initiative is designed to create and inspire construction of enough solar to provide Rutland with the highest solar capacity per capita of any city in New England.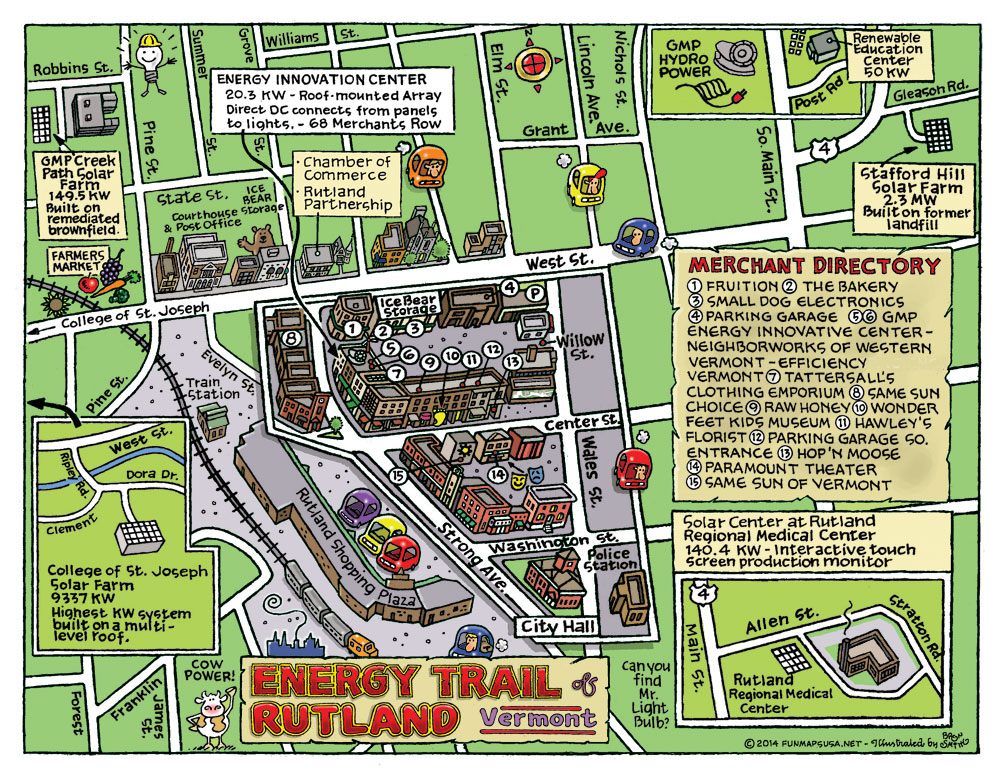 Details of Participation in Drawing
No purchase necessary.
Visit the participating merchants listed on this page. Collect at least 7 different wristbands to be eligible to win. Bring your 7 wristbands back to the EIC and fill out the drawing form.
There is a quarterly drawing for a winner. Prizes may change every quarter.
Winner Notification
GMP will attempt to notify the winner within 10 business days after the drawing using the contact information provided as part of the drawing. GMP will determine the manner of notification. GMP does not have any responsibility or liability for failure to provide notice due to a participant's failure to maintain current contact information.
The odds of winning are dependent on the number of eligible entries received for each drawing.
GMP Energy Innovation Center
68-70 Merchants Row
GMP's Energy Innovation Center (GMP-EIC) is a collaborative space for GMP staff and business partners and is also the home for a 20.3-kW roof-mounted solar direct-current (DC) array. This system is distinctive because a portion of the DC array is directly connected to the EIC's lighting system instead of being converted to alternating current. A micro-wind turbine on the roof also shows how small wind power can play a role in urban settings.
Creek Path Solar Farm
Cleveland Avenue
The 149-kW solar farm built on a remediated brownfield site was completed in December 2012. The project was the first new project to support the Rutland Solar Capital initiative, constructed on a GMP-owned 3-acre parcel on Cleveland Avenue and adjacent to Rutland's new Creek Path, for which the solar farm is named. The site housed an old coal-to-gas plant at the turn of the 19th century but sat largely vacant for several decades except for utility equipment storage. The project is part of GMP's plan to create and inspire construction of enough solar to provide Rutland with the highest solar capacity per capita of any city in New England.
College of St. Joseph Solar Farm
71 Clement Rd.
The College of St. Joseph Solar Farm is a hallmark project of the partnership between Green Mountain Power and local colleges. In support of its goal to transform the City of Rutland into the Solar Capital of New England, Green Mountain Power and CSJ commissioned the 93.37-kW photovoltaic generating facility on the rooftop of College of St. Joseph's state-of-the-art athletic facility. This installation represents the highest kilowatt system possible on the roof while effectively balancing lifecycle costs.
Renewable Education Center
Route 7 North just north of Post Road
Green Mountain Power is devoted to educating consumers, teachers, students, and others who are interested in energy innovation. The Renewable Education Center is an outdoor education center featuring a fully-functional 50-kW solar farm, wind testing tower, educational signs, and a 2-megawatt hydro station. Tours of the Center can be self-guided or led by GMP employees. Access to the hydro plant is only available through a guided tour. There is parking on site. To arrange a tour, email rec@greenmountainpower.com.
Stafford Hill Solar Farm
Off of Gleason Road
The Stafford Hill Solar Farm is on Rutland's former landfill behind the Stafford Technical Center and Rutland High School. This project includes the construction of a 2.5-megawatt photovoltaic solar array. This project is unique because it will include a battery storage system and the capability to disconnect the circuit from the larger grid and feed an emergency shelter at Rutland High School indefinitely with solar energy and storage.
Solar Center at Rutland Regional
Allen Street
GMP and Rutland Regional Medical Center commissioned the development of a 140-kilowatt ground-mounted photovoltaic (PV) generating facility constructed on an approximately 2-acre parcel of land hosted by Rutland Regional. On the site, there is an interactive solar display, which serves up real-time generation information.
NRG Residential Solar Solutions/Rutland Community Solar Array
Hillside Avenue off Woodstock Avenue (Route 4)
In a singular partnership with GMP, NRG Residential Solar Solutions built a 150-kW photovoltaic solar array that serves 50 GMP Rutland residential and commercial customers who might not otherwise afford the upfront capital costs of a solar array, rent their residence or who may live in a home without enough sun. These GMP customers are provided with solar power and a credit on their GMP bills for the energy produced by the array. NRG Residential Solar also has an office in Rutland at 110 Merchants Row.
Otter Creek Solar Park
Green Hill Lane
In support of our goal to transform the City of Rutland into the Solar Capital of New England, GMP developed a PV generating facility constructed on the rooftop of GMP's electrical maintenance building. This facility has turned a company workspace into a generating station in the industrial center of the city. It houses our transformer shop, substation workers, and a peaking diesel generator, which operates primarily during high-demand periods. We anticipate that this solar project will help shave peak loads and reduce fossil fuel use.
groSolar, a national solar firm located on the 4th floor of the Opera House on Merchants Row here in Rutland, designs, builds, and installs commercial solar PV systems across the United States. The company also provides operation and maintenance services for PV system owners.
Sun Common, a large residential solar business that is also a benefit corporation whose mission is to help make renewable energy more accessible, has opened an office here in Rutland and shares a space with Small Dog Electronics on West Street.
SameSun of Vermont designs and installs solar electric systems for homes and businesses, and is located on Center Street in Rutland.