T
he Adaptive Martial Arts Association (AMAA) is the nation's leading resource for adaptive martial arts training information and support. It is a 501c3 non-profit organization, founded by Jason "The Animal" Davis, an adaptive martial artist born with Cerebral Palsy.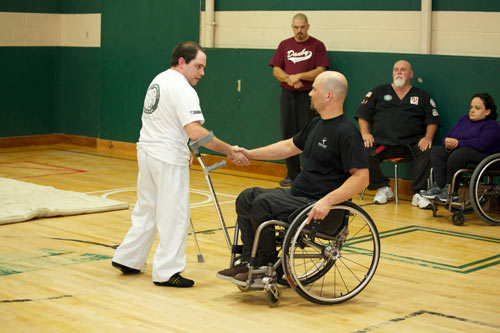 The AMAA is a Vermont based organization providing training, information and support for instructors, adaptive students and the disabled community. Their website offers free access to a directory of over 300 nationwide schools that welcome adaptive students. The AMAA also provides an outreach program for individuals who may have more specific needs or reside in areas where there are no directory listings. The AMAA's volunteer consulting team and therapists assist instructors by answering questions related to disabilities, adaptive training and class modifications.
Currently on the local level, the Adaptive Martial Arts Association, in partnership with Century Martial Arts Supply, provides a donation based tuition system where no student is turned away for the inability to pay for classes. They also provide uniforms and equipment to adaptive students on fixed incomes. The AMAA is also currently raising funds to offer a national martial arts tuition scholarship program to students nationwide. They are also in the process of creating an AMAA instructor accreditation course for 2019!
The Chamber is excited to welcome Adaptive Martial Arts Association as a new member of the Chamber.
Adaptive Martial Arts Association
Jason Davis
PO Box 225
Pittsford, VT  05763
802-747-8184