Like many small towns in Vermont, West Rutland offers a perfect blend of opportunities to connect with nature and a bounty of ways to tap into your artistic side.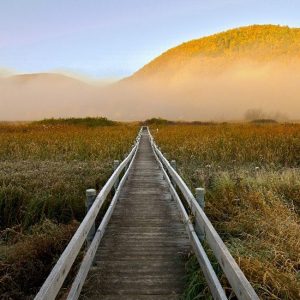 Those looking to get outside should plan to visit the West Rutland Marsh Boardwalk, a natural hideaway that provides the perfect spot for birdwatching. The West Rutland Marsh is a designed Important Bird Area and is considered an essential habitat for one or more species of birds, including Virginia Rail and Sora, as well as American Bittern and Marsh Wren. If you're looking to gain some higher elevation, head to Grandpa's Knob, which straddles the border of West Rutland and nearby Castleton, Vermont. Tucked between the Taconic Mountain Range and the Green Mountain Range, there's never a lack of Vermont's hallmark scenic views.
West Rutland's origins are deeply rooted in Vermont's historic marble industry, and that rich heritage influences the town's arts scene today. West Rutland is home to the Carving Studio and Sculpture Center, which has offered instruction in a wide range of sculptural media with professional artists and crafters from around the world for more than 30 years. Greeting visitors as they arrive at the Carving Studio and Sculpture Center is the sculpture garden, which is a celebration of three-dimensional art and Vermont marble, in particular. Located just up the road is the West Rutland Art Park, a sculpture garden created in 2013 that features large-scale sculptures made from a variety of different materials, including metal and marble.
While You're There
Take a walk down the West Rutland Marsh Boardwalk or spend some quality time with your four-legged friends at the West Rutland Dog Park.
Try the pancakes at Mary's Café, a small eatery serving breakfast and lunch, grab a burger at The Maple Angus food truck during the warmer months, or enjoy a night out with family at Sweet Caroline's.
Meander through the Carving Studio and Sculpture Center's sculpture garden.
Meet Our Members in West Rutland
Allen's Automotive
Bar Harbor Bank
Carpet King of Vermont
Gauthier Home Services, Inc.
H. Hirschmann, Ltd.
Neighborworks of Western Vermont
Poultney Pools & Spas
The Carving Studio & Sculpture Center
Town of West Rutland