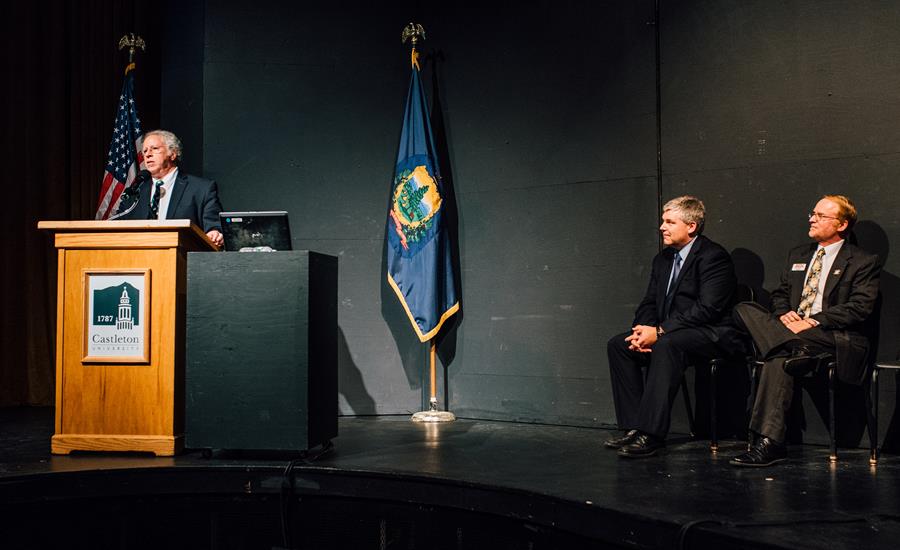 Castleton University President Dave Wolk and Rutland Economic Development Corporation (REDC) Board President Mark Foley, Jr. are pleased to announce they have reached a three-year extension on the partnership agreement which began in 2016.
Castleton and REDC have benefited greatly over the last year through this unique collaboration intended to support the growth of new and current business, recruit new talent to the region, and create an innovative entrepreneurial atmosphere that leverages the assets of the area.  This partnership allows Castleton and REDC to share resources and connect Castleton students and the alumni base to opportunities throughout the county.
"We're thrilled this one-of-a-kind relationship will continue," said Wolk. "The collaboration has led to a more streamlined approach to all of our experiential learning efforts and has helped us to forge a much deeper bond with Rutland, providing our students with opportunities to transition quickly from the classroom to area businesses for internships and careers. Students come here for an education and quickly realize the region is a great place to live, work, and play after graduation.  This partnership creates opportunities for both students and the business community by connecting them to each other."
Castleton Dean of Entrepreneurial Programs, Lyle Jepson, serves as Executive Director for REDC under the partnership agreement and has been a driving force in helping REDC to implement its vision and mission.  A clear priority has been supporting the employment needs of area businesses and industry.  This requires a committed effort to attract people to move to Rutland County to live and work.
To support these efforts, a collection of hard working business, education, and civic leaders have come together to create the Regional Marketing Initiative.  A combined leadership effort on the part of the Rutland Region Chamber of Commerce and REDC, the Initiative has spawned aggressive efforts to promote our region's quality of life and outdoor adventure based assets, which is coming to be known as the Killington Valley campaign.  In addition, the Initiative works to promote the fact there are high-skill, high-demand, and high-paying jobs currently available and waiting to be filled.
"Businesses, town residents, government officials, and municipal leaders are coming together like never before to support common goals, strategic economic growth, and prosperity for our citizens," Jepson said.  "We live in a special place, one where we value family, community, and careers.  We are ready to share these values by inviting people to live, work and play in Rutland County, the gem of Vermont."
Energy and excitement are on display at the newly opened MINT, Rutland's Makerspace, a collaborative effort supported by REDC and many of REDC's member companies.  Nearly $500,000 has flowed through REDC to businesses by way of grants and REDC's revolving loan fund.  Opportunities to provide training funds to six area businesses through the Vermont Training Program is currently underway.  Castleton and REDC are pleased to be colocation partners with the Rutland Young Professionals, who at more than 200 strong in membership are our region's rising leaders and offer young career-minded individuals an opportunity to connect to social and professional opportunities in the region.
"Over the past year through our partnership with Castleton, REDC has experienced significant growth, and positive results", said Foley.  "We are excited to continue this partnership and grateful for the leadership, vision, and collaborative spirit of Lyle and his team, which have collectively helped us turn great ideas into positive outcomes for the County and the State of Vermont."