Business Planning:  Getting Started
10 Weeks, 1 Plan, Great Business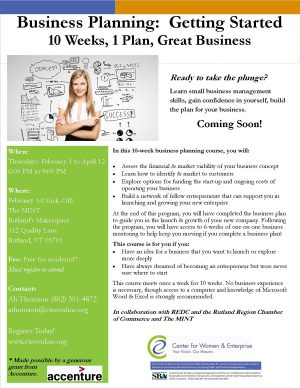 In this 10-week business planning course, you will: 
Assess the financial & market viability of your business concept
Learn how to identify & market to customers
Explore options for funding the start-up and ongoing costs of operating your business
Build a network of fellow entrepreneurs that can support you in launching and growing your new enterprise
At the end of this program, you will have completed the business plan to guide you in the launch & growth of your new company. Following the program, you will have access to 6-weeks of one-on-one business mentoring to help keep you moving if you complete a business plan!
This course is for you if you:
Have an idea for a business that you want to launch or explore more deeply
Have always dreamed of becoming an entrepreneur but were never sure where to start
This course meets once a week for 10 weeks. No business experience is necessary, though access to a computer and knowledge of Microsoft Word & Excel is strongly recommended.
 In collaboration with REDC and the Rutland Region Chamber of Commerce and The MINT
When:
Thursdays: February 1 to April 12
6:00 PM to 9:00 PM
Where:
February 1st Kick-Off:
The MINT
Rutland's Makerspace
112 Quality Lane
Rutland, VT 05701
Fee: Free for residents!*  Must register to attend.
 Contact:
Ali Thomson (802) 391-4872  athomson@cweonline.org
Register Today!  www.cweonline.org
* Made possible by a generous grant from  Accenture.