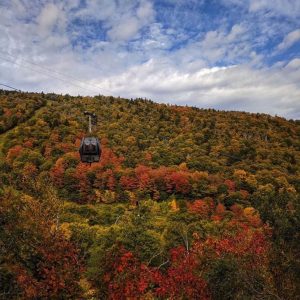 The Town of Killington is a small mountain community that embodies the "work hard, play hard" mentality. Killington is home to Killington Ski Resort, offering four-season outdoor recreation. In the winter months, Killington welcomes thousands of visitors from across the country who come to ski and ride the largest ski area in the eastern United States. The Beast of the East features seven distinct mountain areas, including Killington Peak, the second-highest in the state at 4,241 feet. With 155 trails and six terrain parks, Killington provides skiers and riders of all ability levels a choice of wide-open groomed trails, narrow classic New England runs, and much more. Opening day for skiing and riding at Killington Resort is expected to be November 14.
The fun doesn't stop when Killington's peaks transition from pure white to vibrant green.  In the warmer months, Killington provides unparalleled mountain biking and golfing, and is home to an adventure center featuring the Beast Mountain Coaster, the Soaring Eagle, Alpine Tubing, and more.
In addition to Killington Resort, there are several other hiking and walking trails in the region, including Thundering Brook Falls Trail and Deer Leap Overlook trail, a 1.9-mile hike that is good for hikers of all ability levels. It provides the best views of the Green Mountain Valley at its peak. Looking to get out on the water? Visit Kent Pond or Colton Pond for fishing, kayaking, or canoeing.
After a long day exploring Killington, unwind at any of its restaurants with family and friends. Most of Killington's restaurants are conveniently located on Killington Road, the access road to the Resort. With a range of options, there's something for everyone.
Killington is home to many shops, selling high-quality ski gear, jackets, mountain bikes, and more. From daily essentials to the perfect Vermont gift, you're sure to find it in Killington.
Real Killington Bucks
Killington Pico Area Association and Chamber & Economic Development of the Rutland Region have partnered to present the "Real Killington Bucks" program. Through November 12, 2020, when you visit any participating business in Killington and spend $30 or more, you can save $10 off your total purchase when you ask to use "Real Killington Bucks." This program is meant to provide financial assistance to businesses that have been impacted by COVID-19.
While You're There
Grab a bite at any of Killington's restaurants, including Casey's Caboose, Peppino's, The Foundry at Summit Pond, Sushi Yoshi, Preston's, Liquid Art Coffeehouse, McGrath's Irish Pub, and many more
Take a hike at Thundering Falls Trail or Deer Leap Overlook
Find the perfect gift for yourself or others at Greenbriar Inn & Gift Shop and others
Ski and ride (or bike and golf) the Beast of the East
Our Members in Killington
Business Coach Vermont
Casey's Caboose
Green Mountain Marketing & Advertising Inc.
Green Mountain National Golf Course
Killington/Pico Ski Resort Partners
Killington Music Festival
Killington Pico Area Association
Killington TV 14
Peppino's Restaurant
SP Land Killington
The Mountain Times
Town of Killington
Vermont Adaptive Ski & Sports
Vista Senior Living