Affectionately known as the Sunshine Village, the Town of Pittsford is conveniently located between Rutland and Middlebury. Situated along Otter Creek, Pittsford is home to abundant wildlife, rolling hills, and working farms.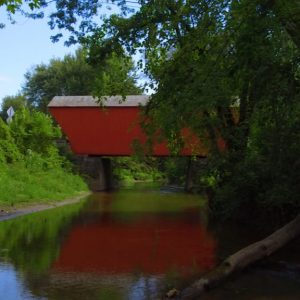 Hop in the car and embark on a driving tour of the region's historic covered bridges. Make a stop at the Hammond Covered Bridge, Cooley Covered Bridge, Gorham Covered Bridge, and Depot Covered Bridge. Stop along the way and grab a bite to eat at any of Pittsford's eateries, including The Country House Restaurant. If you're looking for a good sandwich on the go, we recommend Kamuda's Country Market. The historic store, which opened its doors back in December 1939, is owned and operated by Brian Kamuda and his wife, Christine, who are the third generation to own the town market.
Pittsford offers an expansive trail network, providing residents and visitors recreational experiences throughout Vermont's four seasons. Enjoy walking, bird watching, snowshoeing, hiking, and cross-country skiing through open fields, along rivers and waterfalls, and through dense woodlands. Pittsford is also home to a disc golf course adjacent to the recreation trails area off Furnace Road.
While You're There
Meet Our Members in Pittsford
Adaptive Martial Arts Association
Bar Harbor Bank & Trust
Barnard Funeral Home
Carpenter & Costin
Disaster Recovery Inc.
Gagnon Lumber
Kamuda's Country Market
Marcell Oil Company
Markowski Excavation
New England Kenworth
Omya, Inc.
Pittsford Automotive Center
Proctor-Pittsford Country Club
Rutland County Humane Society
Town of Pittsford