Girls on the Run VT Central 5K
Girls on the Run is excited to announce that their one-of-a-kind 5K celebration will be held at a NEW VENUE this year and they can not wait to celebrate with YOU!
On Saturday, May 19, 2018 over 1,000 girls, coaches, family members and friends of GOTR will lace up their shoes at CASTLETON UNIVERSITY and take part in a 5K to support and celebrate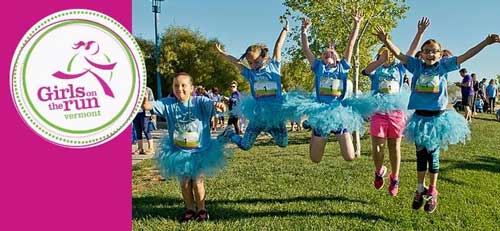 the girls' completion of their 10-week life skills and empowerment program.
Designed to allow every girl to recognize her inner strength, Girls on the Run inspires Vermont girls in 3rd – 8th grade to define their lives on their own terms through lessons that encourage positive emotional, social, physical and mental development. Participating in a Girls on the Run 5K gives the girls a tangible understanding of the confidence that comes through accomplishment.
Crossing the finish line is a defining moment when the girls realize even the seemingly impossible is possible.
In order to give our girls the best celebration possible (and we think they deserve it!), we need more than 200 volunteers. From course marshals, registration, and activities… to set up, clean up and volunteer recruitment, there is a role to suit everyone's talents and time!
Ready to help our girls shine?  Click here to volunteer!
If you would like to register to run or walk in our 5k event, registration is now open! Save $10 when you register before race day. **New this year, special rate for GOTRVT Alumni!

Click here to register….GOTRVT Central 5K Registration