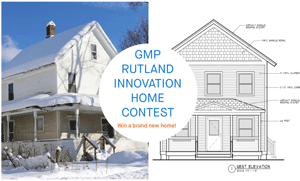 Green Mountain Power, in collaboration with Naylor & Breen Builders, NBF Architects and the United Way of Rutland County and nearly 60 other supporters, is giving away a brand new fossil fuel-free home. The home will be a 1,500-square-foot traditional New England farmhouse – three bedrooms, 1 1/2 baths, wide front porch, and the latest in technology and controls.
The mortgage-free, energy-smart home will include:
Solar panels
Air source heat pumps
Tesla Powerwall
Cutting edge insulation package
Local "concierge" to provide assistance with job searches
Business and personal contacts and free co-working space at GMP's Energy Innovation Center in downtown Rutland.
Learn more about Rutland County.
This home, built through an incredible collaboration, will be one of the most energy efficient homes in Vermont.
To find out more about this home and how to enter the contest CLICK HERE