Winter in August 2018
Due to predicted thunderstorms and for everyone's safety we are moving to the 
Vermont Farmers Food Center
251 West St., Rutland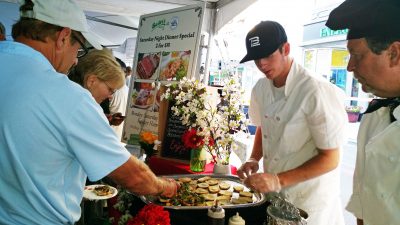 Winter In August is held annually by the Rutland Region Chamber of Commerce, originally held as a recognition of the ski industry's contribution to the regional economy, has become a food festival and block party with over 800 people in attendance last year.  Winter In August will take place on Tuesday, August 14, 2018, from 5-8 pm.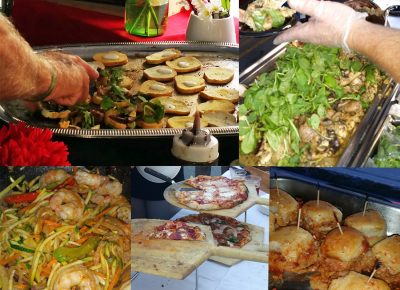 Winter In August is sponsored by: Davis & Hodgdon Associates CPAs; Key Honda of Rutland, Killington TV, Marcell Oil Company, Rutland Regional Medical Center and Amerigas.
Aside from the great food, new this year there will fun activities including demonstrations from The Upbeat Canine and Vermont Martial Arts Academy, a photo booth by Vibe Portrait Art and a mini golf hole from Otter Creek Fun Center (with a chance to win free mini golf).
Thirty-eight local restaurants, caterers and businesses will be providing food tasting for your enjoyment: Amerigas, AT&T; At Home Senior Care; Brix Bistro; Cairo Shriners; Cape Air; Casey's Caboose; College of St. Joseph; Davis & Hodgdon Associates CPAs; Donuts of Rutland-Dunkin Donuts; Franklin's; Franklin Conference Center; Holiday Inn; Intrepid Athletics; Killington Grand Hotel; Mama T's Country Kitchen; Mike's Country Store; MVRTD/The Bus; NBT Bank; Okemo Mountain Resort; Otter Creek Fun Center; Raiche's Vermont Salsa; Rotary Club of Rutland; Rutland Bowlerama; Rutland Rocks Curling Club; SCORE; Special Olympics Vermont; SunCommon; The Ground Round; The Maples Senior Living; The Mentor Connector; The Upbeat K9; TLC Homecare and Nursing; Vermont Butcher Shop; Vermont Tap House; Winterfest and Yankee Surplus Store.
Thank you to our sponsors: