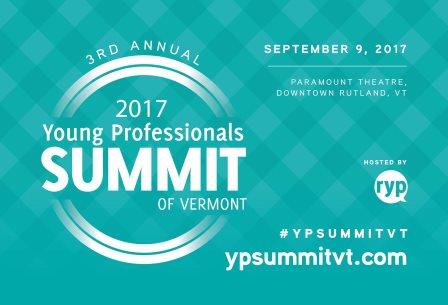 The 2017 Young Professional Summit of Vermont will be held in Rutland on Saturday, September 9th, kicking off at 8:30am with registration, coffee and networking at the Paramount Theatre.  The summit is a great opportunity for Vermonters to network, share ideas, and confront issues faced by the state's young workforce.
The summit is equal parts professional development and community action, and aims to empower young people to create positive change by connecting them with business leaders, policymakers, and, most importantly, each other. Anyone with an interest in contributing to the future of Vermont is encouraged to participate.
The keynote speaker will be Mary Powell, President & CEO of Green Mountain Power, there will be several breakout sessions on topics including building your professional career, business buying, regional marketing, craft beers and more.  Click here for the schedule for the day.
The cost to attend is $20 per person and includes a full day pass to the event and lunch.  Click here to register.
For more information go to: www.ypsummitvt.com